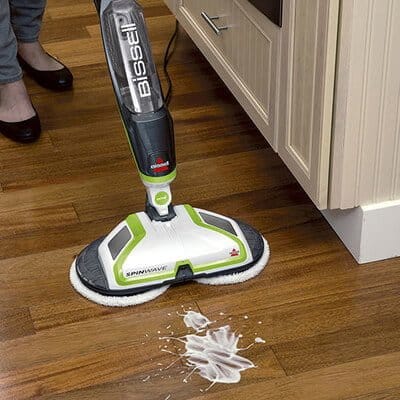 Nobody really likes mopping dirty floors in their right frame of mind, it's just something we have to do. And with a new-age affordable mop like Bissell Spinwave 2039A at your disposal, mopping floors becomes less of a chore.
Bissell Spinwave is specifically designed to scrub the toughest dirt and stains off sensitive surfaces e.g tile floor, sealed hardwood floor, linoleum, porcelain, travertine, and vinyl flooring. Scrubbing these types of floors with regular mops can strip them of their sheen and glamor.
This advanced mop uses two soft rotating microfiber pads which technically cannot leave any ugly scratch marks on your floor, no matter how intensely you scrub it. Moreover, it eliminates the need for lugging around a heavy bucket all over the house.
It does a decent job in my apartment which has tile floors and two master bedrooms and a dog. By now, I understand this product well enough to figure out its strengths and shortcomings. So I decided to do a thorough review of Bissell 2039A to help you make the right choice, in case you are in doubt whether this mop is worth your time.
Before we delve into the nitty-gritty of the device, let's take a quick look at its key features.
Bissell SpinWave Review: Product Highlights
28 ounces tank can contain hot water (not hotter than 140 degree F/ 60 degree C). Tank can be attached and detached easily.
On-demand cleaning solution spray button. Lets you control the amount of spray that goes onto the floor.
Two buffing microfiber pads and two scrubbing pads for efficiently mopping moderately dirty floors.
Weighs 11 pounds and has a 22 feet long electric cord.
Cleaning surface is approximately 14 inches.
Comes with two 8 ounces multi-surface formula that keeps your hard floor in pristine condition and takes away the stubborn stains and spills without rigorous scrubbing.
A Detailed Look at Bissell Spinwave 2039A: Features and Performance Analysis
Not all electric mops are created equal. I have tried several brands before and none of them truly delivered what they promised. Some of them only moved the dirt around instead of total elimination, while the others gave me terrible back pain. What's the point of investing in an electric mop if I have to do all the intense scrubbing with my own hands, getting down on my knees?
What makes Bissell 2039A a welcome change is its rotating disc and seamless maneuvering.
Its powered cleaning pads have a very simple and straightforward mechanism. You spray the floor and roll the mop over it until it absorbs all the liquid (and the dirt along with it). That way, it doesn't smear dirty water all over while scrubbing, which is a huge problem with most other spinning mops.
Still not sure if this is the product you are looking for? Fair enough.
Let me give you some more details to help you understand the product better.
Two Different Power Cleaning Pads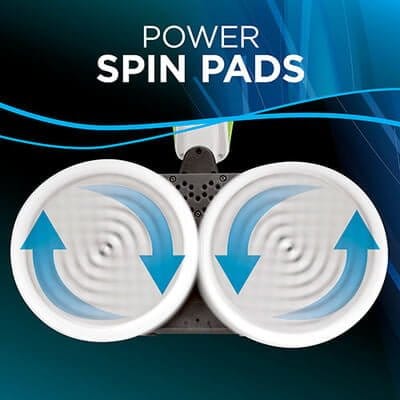 Upon unboxing, you will find two types of cleaning pads in the package, a pair of soft-touch pads for laminate wood floors and two scouring pads for scrubbing the sticky crud off different types of surfaces. You need to attach these pads to the device using the velcros at the bottom.
These cleaning pads always work in pairs and their rotation minimizes the strain on your wrist, arm, and shoulder. It gets the job done without passing one area over and over again. So there's that.
One thing to note here is that you have to align the pads properly, otherwise the machine could vibrate or feel sort of wobbly. Nonetheless, attaching and removing the pads is easy after the first two or three attempts.
The scouring pads do a decent job of moping away grease and dirt off my kitchen floor. Unless you are dealing with old and tough stuck-on dirt, you don't have to get down on your knees and scrub the floor manually anymore.
The buffing pads, on the other hand, are more geared towards polishing laminate wood, vinyl, marble, porcelain, and tile flooring. It is great for regular cleaning and making laminate and hardwood floor shine without wax. It is best suited for picking up mild dirt, debris, hair and pet dander. Don't expect it to tackle stuck-on mess, though.
The microfiber pads are machine washable. I personally prefer rinsing it in my DIY vinegar and baking soda solution instead of detergent. It makes them last longer. I'd also suggest you buy extra pads which are easily available and don't cost much either.
Removable Tank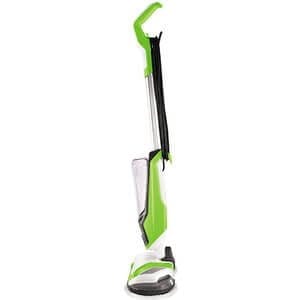 Its easily detachable 28-ounce solution chamber is another fantastic piece of utility. The tank is clearly marked for small and large cleaning jobs. It means you don't have to guess how many solution should go in the tank for the particular type of mess you are dealing with.
Instead of steamy hot water, you should pour warm water to maintain the longevity of the tank material. For both deep and regular cleaning, I like to mix tap water with the multi-surface cleaning solution provided by the manufacturer.
Yes, you can put other store-bought or homemade cleaning solutions in the tank. But try to refrain from using vinegar as it can decay the tank material and void the warranty too, according to the user manual. Read the manual carefully before filling up the tank with your choice of cleaner.
Multi-surface Cleaning Solution
The mop comes with two 8 ounce bottles of Bissell multi-surface cleaning solution which, to be honest, is not the best hard floor cleaner in the market. However, for sensitive surfaces, it works much better than the harsh detergent-based cleaning products sold in the market. If you want deep cleaning, here's a pro tip: vacuum the floor before mopping, if possible.
Design and Functionality
The low height of the cleaning head and the pivoting handle make reaching tight spaces e.g area under the furniture with ease. Weighing around 11 pounds, this mop is certainly not lightweight. But despite the bulky stature, it is incredibly easy to maneuver as most of its weight rests on the floor.
Once the motor is on and the floor is sprayed with a liquid cleaning solution, the device glides smoothly over the surface. The motor is exceptionally quiet which is a huge plus since I have a dog and a newborn in my house.
It has only two buttons to fiddle with, one power switch and a spray button. Before spraying the floor with the cleaning agent, make sure your floor is sealed. Otherwise, the cleaning substance can slowly damage the floor or dull its shine.
Overall Performance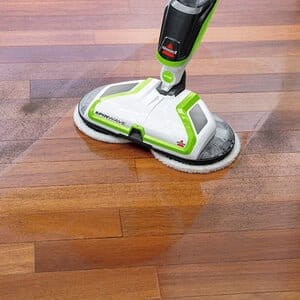 You will have full control over the amount of solution you are spraying as the machine beeps every time the cleaner is dispensed. However, here's a caveat- you will have to constantly pivot the handle forward and backward to spray the liquid.
It dispenses the cleaner only at a particular angle, something you might struggle with in the beginning. I figured out that this problem occurs mostly when you use any cleaner other than the plain water+Bissell cleaner solution. Not a deal-breaker, just something to keep in mind before using the mop.
With everything in place, you should be able to effortlessly clean 5 small rooms every day with this. However, to be very honest, I find this mop more suitable for cleaning small stains and polishing than eliminating stubborn stains.
Pros and Cons of the Bissell Spinwave 2039A
Worthy Alternative: Bissell 2315A SpinWave Cordless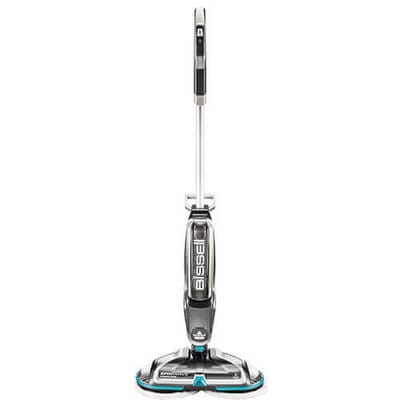 While Bissell 2039A has got everything you'll ever need for day-to-day cleaning, it is always nicer to have more than one option around. So I did some digging around and found that Bissell 2315A SpinWave would be a great choice if you want a cordless mop and money isn't a problem.
Once fully charged, it provides a runtime of around 20 minutes which is adequate for cleaning one to two rooms. It also has an LED indicator light to help you monitor the battery level. If I have to compare the performance with 2039A, there isn't a striking difference between the two.
Both devices pack enough punch to make daily mopping a breeze, even for people with some kind of physical limitation. If you wish to go cordless and are okay with shelling out a few extra bucks, you can go for Bissell 2315A. However, it can't match the flexibility, versatility offered by the corded 2039A. But at the end of the day, it's your call.
Frequently Asked Questions about Bissell SpinWave 2039A
Is the mop heavy to push?

Answer: No, despite being on the heavier side, the rotating mechanism of the discs makes it incredibly easy to maneuver in the desired direction.

Can you get under the furniture with this unit?

Answer: The low height of the cleaning heads makes lets you effortlessly clean under the furniture.

How long does it take to mop a 10×10 feet area?

Answer: Depending on the kind of mess you are dealing with, it could take 5 minutes more or less.

What is the difference between SpinWave and CrossWave?

Answer: The CrossWave is a vacuum+mop while 2039A SpinWave only has mopping function. While the former is very effective at deep cleaning hard floor, it doesn't polish the floor, unlike SpinWave.

Can you find replacement pads for 2039A?

Answer: Yes, replacement pads are very easily available.
Final Verdict: Is Bissell SpinWave 2039A Worth It?
If you want an easy-to-operate corded mop that does a fine job of polishing and mopping away small stains from hard floor, Bissell SpinWave 2039A is definitely worth a look. Its rotating scouring and buffing pads are way more functional than regular wet pads. It doesn't affect the shine or smoothness of the cleaning surface and has the simplest working mechanism you can think of.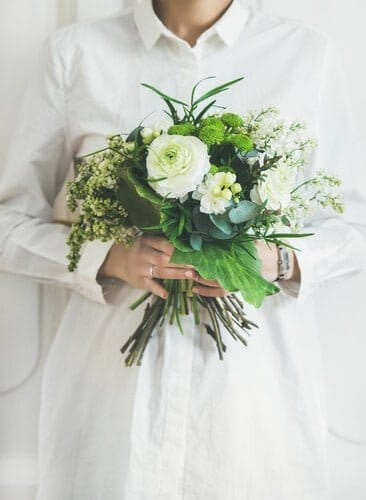 Hello there, and welcome to my vacuum cleaner blog! Here you will find the latest product reviews, the best home organization tips, clever cleaning hacks, and so much more. If you stick around, I think you will find the answers to the questions you've been looking for.
I have extensive industry knowledge of the most advanced vacuum cleaners out there and I can give you the most accurate and up-to-date information. I am committed to bringing you the best tips, the most in-depth reviews, and the most innovative home tips to get your house in tip-top shape in no time! Happy cleaning!