When you are after all the dirt on the floors, a vacuum cleaner is a great choice. But if you also want to get rid of germs and bacteria, a good steam mop is better in most cases. Looking for a steam mop? Have a look at our Best Steam Mop 2019 reviews!
Each of the 10 high-rated models we have examined has quite unique sides, so you should be able to find something for your own needs right after you go through the list. Let's get going and see what those 10 models are about!
The Top 10 Best Steam Mops Reviews
The first model on our reviews of best steam mop 2019 is Bissell PowerFresh Steam Mop. It is a rather inexpensive yet fairly functional steam mop. PowerFresh Steam Mop can eliminate a variety of messes, including dried-on and sticky spots.
That isn't surprising since Steam Mop utilizes hot steam to deal with dirty stains on the floors. Apart from the steam itself, Steam Mop features a retractable scrubber that should make dealing with especially tough spots a little bit easier.PowerFresh Steam Mop has 3 levels of steam intensity: low, medium, and high, meaning that you will be able to adapt the steam mop to a variety of cleaning tasks.
Bissell equipped their PowerFresh Steam Mop with a 16oz water tank that works well with only distilled or demineralized water. The warm-up time of the Steam Mop is exceptionally short: only 30 seconds, which will allow you to quickly start your cleaning tasks.
This steam mop comes with a 23-foot power cord, which should be enough to allow you to not worry about switching power outlets too frequently. PowerFresh Steam Mop employs washable microfiber pads that easily pick up dirt. The downside of the quick operation of the pads is that they get dirty almost instantly.
Moreover, the Steam Mop comes with only 2 microfiber pads, so for bigger tasks, you would have to wash the pads to continue cleaning. A good solution would be buying spare dust pads from Bissell. PowerFresh Steam Mop also comes with 2 scent discs for those who want to add a little bit more freshness to their floors.
---

Shark Steam Pocket Mop is quite similar to the PowerFresh Steam Mop by Bissell, but this one is a little bit more flexible thanks to the multi-position steam intensity switch. The cord of the Steam Pocket Mop is also a little bit shorter (20 feet against 23), though it should still be enough to reach any corner of your house from a single power outlet.
Another difference is the 2 double-side cleaning pads included with the Steam Pocket Mop. This should allow for more cleaning with each pad, though only 2 pads might still be not quite enough for large cleaning tasks. Sooner or later, you will have to wash the pads, so you might as well think about getting spare cleaning pads. And the last difference is that this model doesn't have a retractable scrubber.
Because the heat of the steam is the main contributor to a steam mop's effectiveness, the absence of the scrubber probably won't make much difference. Otherwise, Shark Steam Pocket Mop is pretty much identical to Bissell PowerFresh Steam Mop. It boasts the same quick warm-up time of only 30 seconds.
It is exceptionally effective against germs and bacteria thanks to the steam, allowing for 99.9% sanitization. In terms of convenience, Shark Steam Pocket Mop also boasts a 180-degree swiveling head, allowing you to easily reach floors under the furniture.
---
Now comes one of the most, if not the most remarkable model on our Best Steam Mop 2019 reviews. What's noteworthy about Light 'N' Easy Steam Mop is that it adjusts automatically to your requirements! The smart sensor allows for an auto release of the right amount of steam for the particular floor type.
This means that you won't have to worry about adjusting the steam intensity manually, but on the other hand, a little bit of regular adjustability wouldn't hurt this model. The smart sensor also automatically detects when it should release steam.
For example, as soon as you put the steam mop to a halt, it ceases to release steam in order to keep your floors safe. The machine resumes releasing the steam as soon as you move the steam mop: in fact, the faster you move the steam mop, the more steam it releases.
The design of the cleaning head of this model is also quite remarkable. It can be used in both square and triangular modes for general cleaning and access to corners respectively. This is possible thanks to the fully swiveling handle, which greatly contributes to the convenience of this steam mop.
Apart from that, the design of the cleaning head ensures that the number of dead angles is as low as possible. This steam mop also boasts quick warm-up time of only 20 seconds, so if you have been looking for a time-saving steam mop, this model might be for you.
Light 'N' Easy Steam Mop also comes with a moderate 9 oz water tank that is built into the cleaning head. This makes the head quite a bit tall, which might pose some inconvenience with lower furniture.
---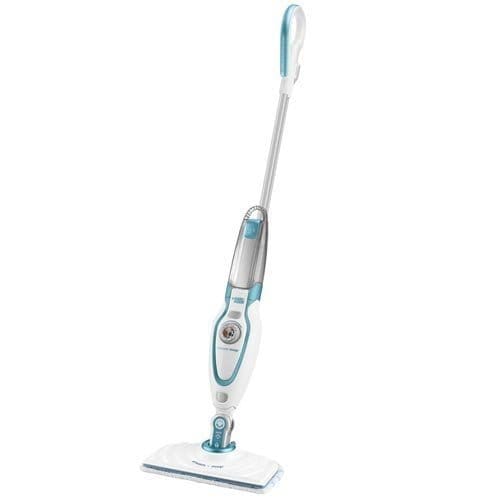 BLACK+DECKER BDH1720SM SmartSelect Steam Mop is pretty similar to the Light 'N' Easy Steam Mop we have just reviewed, but this one is a little bit simpler. SmartSelect Steam Mop has the familiar smart sensor that allows the steam mop to automatically regulate the steam release intensity, as well as to stop/resume the steam mop when you put it to rest/continue cleaning respectively.
The SmartSelect Technology stands behind the auto adjustment of the steam: you only need to select the specific floor type and start cleaning.BLACK+DECKER SmartSelect Steam Mop is equipped with a capacious 15.6oz water tank.
The water tank itself features a color indicator that changes from red to blue when the water reaches the right temperature. With this steam mop, it only takes 15 seconds for the water to reach the correct temperature! To ensure the comfort of use, BLACK+DECKER equipped this steam mop with a 180-degree swiveling head.
Unfortunately, this model comes with only a square cleaning head, so you might have a little harder time treating far corners under the furniture.BLACK+DECKER SmartSelect Steam Mop comes with two cleaning pads, so for larger tasks, you might want to get a couple more of them.
---

Now come the first two-in-one steam mop and vacuum cleaner on our Best Steam Mop 2019 reviews! This model will be a great choice for those who are looking for both a steam mop and a vacuum for their bare floors. Let's begin with the mop features of this device.
Symphony Steam Mop offers two levels of steam intensity: high and low for treating tough stains and for general cleaning respectively. It also features a quick warmup of only 30 seconds. Bissell kindly included as many as 4 mop pads with this model!
Each of the pads is designed to stay fresh and clean for the longest time compared to traditional pads, so you should get much more out of the 4 mop pads included with the Symphony Steam Mop. A feature that you won't meet too often in steam mops is the 5-position adjustable handle height, which can make the mop a little bit more convenient for taller or shorter people.
Too bad that the Symphony Steam Mop doesn't have a 180-degree swiveling motion for more convenient control over the mop like the other models do! As for the vacuum functionality, Symphony Steam Mop is pretty much a regular bagless upright vacuum.
It comes with a moderate-capacity dustbin that can be easily emptied. And because the Symphony is bagless, you won't have to think about buying bags in the future. As a vacuum, Symphony is quite good for bare floor cleaning.
Although it comes with a basic vacuum filter, the steam mop feature of this device can help you get rid of 99.9% of germs and bacteria. Keep in mind that the Symphony won't vacuum carpets very well because it doesn't have motorized brushes.
By the way, the Symphony can be used to steam and vacuum either simultaneously or separately!
---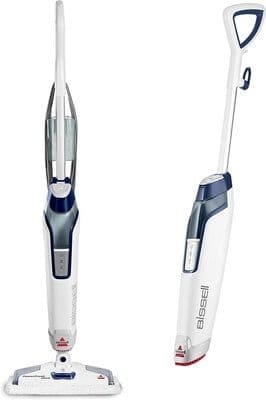 Bissell PowerFresh Deluxe is a little bit different version of the Bissell PowerFresh Steam Mop we reviewed at the beginning of Best Steam Mop reviews. Let's begin with what's different between PowerFresh Deluxe and PowerFresh.
The water tank of the Deluxe is rather capacious: it offers 19oz of volume against 16oz of the regular PowerFresh Steam Mop. Apart from that, if you need to precisely know how much water you are putting into the water tank, you will find good use of the included measuring cup.
Another difference is that the Deluxe has 2 steam intensity modes: high and low. If you need a steam mop for more of general cleaning, the Deluxe might be a better choice, but if you want to have more control over how your steam mop cleans, the regular PowerFresh would be a more suitable option.
The last major difference is that instead of the retractable scrubber for tougher messes, the Deluxe features the SpotBOOST brush at the bottom of the handle. To use the brush, you need to detach the cleaning head, which is not as convenient as simply retracting the scrubber with a push of your foot. But with the SpotBOOST, you will be able to gain more control over the cleaning process.
As for the rest of the features, the PowerFresh Deluxe and the PowerFresh are identical. The Deluxe comes with the familiar pair of cleaning pads, as well as two scent discs. It also warms up in a mere 30 seconds. And most importantly, the Deluxe has the familiar fully swiveling cleaning head that makes cleaning floors so comfortable!
---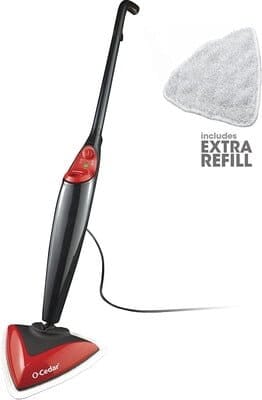 If you have been looking for a steam mop to treat both your floors and carpets with, take a look at O-Cedar steam mop! The thing that makes this steam mop suitable for carpet cleaning is the included carpet glider. You just snap it on the cleaning head and safely clean your carpets.
Although you could buy such an attachment for most of the steam mops anyway, having the glider out of the box is quite nice.O-Cedar steam mop warms up in a mere 20 seconds. It features adjustable steam release intensity: with the rotating knob, you can precisely set the steam for your current cleaning tasks.
If you have been also wanting a steam mop that can easily access corners, O-Cedar steam pod is a nice choice as it features a triangle cleaning head. It will certainly be better for corners, but the convex design of the head's edges might make this steam mop not as great for areas along the walls.
O-Cedar steam mop also comes with 2 washable pads that can be washed up to 25 times each. If you plan to do a frequent deep cleaning, you might need to get additional cleaning pads with this steam mop. As for the downsides of O-Cedar steam mop, it has an opaque water tank and no indicator of the water level.
Apart from that, the design of the swivel makes this steam mop not as flexible as the other steam mops we examined.
---
If you have been looking for an ultimate steam mop to clean your floors with, meet Euroflex Monster EZ1-XL. It has features that cannot be found in many other steam mops! EZ1-XL is equipped with an extra-large water tank with about 20oz of capacity.
Regardless of the level of the water remaining in the tank, you will get the consistent pressure of the boiling steam. EZ1-XL releases steam from the bottom and the front on your demand. And most importantly, this steam mop intelligently stops releasing steam when the handle is in an upright position.
However, keep in mind that EZ1-XZ warms up in 3 minutes!EZ1-XL is quite convenient as well. One of the contributors to its convenience is the telescopic hand, which makes this steam mop a bit more convenient for both use and storage.
However, the head of EZ1-XL doesn't swivel all around, so it might be not as convenient to operate this steam mop. Add to that the bulkiness of the cleaning head, which may make this steam mop not very comfortable for cleaning floors under low furniture. In terms of accessories, Euroflex EZ1-XL comes with two washable heavy-duty floor pads and one carpet glider.
---
Closing off our reviews of best steam mop 2019 with yet another two-in-one vacuum and steam mop by Light 'N' Easy! However, this model is a little bit simpler than Bissell's steam mop/vacuum combo we examined earlier. As a steam mop, all this model does is basically steam cleaning your floors at a consistent steam intensity.
Only one steam release level might sound like a downside for some, but if you don't need to have complete control of your steam mop, then Light 'N' Easy Vacuum Steam Mop may be a good choice for you. The downside of the steam-mop side of this device is its low water tank capacity of only 4 ounces, which will make you refill the tank during your cleaning tasks more frequently.
On the other hand, such a small volume of water gets ready in only 20 seconds! The water tank also isn't opaque and doesn't have a water level indicator. If you also want to clean your carpets with this steam mop, you can attach a carpet glider to it, though keep in mind that Vacuum Steam Mop doesn't come with one.
The Vacuum Steam Mop also works as a basic vacuum for your everyday light vacuuming tasks. It won't be able to deep clean your floors, but because you can use this device as a steam mop and vacuum at the same time, you will get much more out of the cleaning in terms of germ & bacteria elimination.
As for the included cleaning pads, the Vacuum Steam Mop comes with only 1 washable and 5 disposable cleaning pads. If you will be doing large cleaning tasks, you might want to get spare washable pads.
---
The Best Steam Mop Buying Guide
There are a lot of models of steam mops out there, and every single one of them comes with its own unique set of features. But how do you know which one to choose? Let's see what kind of features steam mops can come with and what they are for!
What is a steam mop?
Let's begin by understanding what a steam mop is. In reality, there isn't anything difficult about steam mops: they use hot boiling steam to clean the surface of the floors. You simply fill the steam mop's water tank, wait until the machine is ready to release steam, and start your cleaning!
Steam mops are exceptionally effective against various kinds of germs and bacteria thanks to the heat of the steam. Apart from that, the steam loosens up the dirt for its easier removal. All in all, a good steam mop would be a nice addition to your collection of cleaning appliances.
Moreover, because it is so unique in terms of its effectiveness and functionality, a steam mop may be a must-have if you want to treat your floors in as many different ways as possible. Steam mops generally work only with floors, but with the attachment of the so-called carpet gliders, you can also eliminate germs and bacteria from the carpets and even somewhat clean them, but don't expect the exceptional level of performance in this regard.
Carpet piles and floors aren't the same things after all. That's why if you want to perform ultimate cleaning of any surface at your home, you should have a separate steam mop, vacuum, and maybe even a carpet shampooer for that exceptional carpet cleaning performance. Now that we made clear what steam mops are, let's see what they have to offer!
Things to Look For in Steam Mops
Steam release intensity levels
Some steam mops allow you to regulate steam release levels while the others don't. Adjusting the steam release level allows you to set the amount of steam released by the machine. The more steam your steam mop releases, the tougher stains it will eliminate and the better it will clean.
Most typically, steam mops have 2-3 steam release levels (low, medium, high). Whether you will be choosing a steam mop with 3 steam settings or just 1 depends on what kind of cleaning you will be doing. If you plan to only perform some occasional cleaning, you don't really need to go for multiple steam settings.
On the other hand, if you will be performing different kinds of cleaning and want as much control of your steam mop as possible, look for a model that has adjustable steam release levels.
Automatic steam intensity adjustment
Apart from manual adjustment, some steam mops are able to regulate the steam release intensity levels automatically. Such steam mops are typically equipped with dirt sensors that allow the machine to automatically disperse the required amount of steam.
While auto steam adjustment is a convenient feature, it might give in to the advantages of manual adjustment like precise steam release adjustment on demand. After all, the sensors might not be able to work correctly in some cases.
Intelligent steam release
An intelligent steam release is another auto feature that contributes to the overall comfort of a steam mop's use. At the least, intelligent steam mops cease to release steam as soon as the handle is set in an upright position. Some models go even further and regulate the steam release level in accordance with the intensity of the steam mop's movement. If you want to get such a model, make sure that it has a manual way to stop the steam release.
Cleaning head design
While the majority of steam mops come with rectangular or square cleaning heads, some models may feature triangular heads or, as an alternative, come with such a cleaning head as an attachment. Other models may be equipped with a triangular cleaning head by default.
In general, triangular cleaning heads are a little bit more convenient for cleaning corner-side areas of the floor. The design of a triangular cleaning head is especially convenient with corners under furniture because they are generally easier to reach with triangular heads.
As for general cleaning, both of the head types can be used quite effectively. So if you want a little bit more comfort in cleaning corners, you might want to get the steam mop that is either triangular out of the box or comes with such a head as an accessory.
Water tank capacity
The water tank capacity of a steam mop impacts the duration with which you will be able to clean the floor continuously without refilling. The more the capacity of the water tank is, the fewer refills you will have to do, but the longer it takes for the steam mop to warm the water up to produce steam.
The water tank capacity is a part of the reason why Euroflex Monster EZ1-XL warms up in 3 minutes. If you want to more or less precisely pick the water tank capacity, know that as a rule of thumb, a 15oz water tank should be able to provide you with the consistent steam flow for about 10-20 minutes depending on the steam release intensity.
But you could also not pay any attention to the numbers and go for the biggest tank you can afford because it will allow you to avoid frequent refills.
Water tank filter
Most typically, steam mops come with water tanks that do not have any kind of water filter. This means that you should only use distilled or demineralized water to avoid mineral buildup on the water tank, as well as other components of the steam mop.
On the other hand, steam mops with water filters can be used with water from a variety of sources. Alternatively, there are water filters for steam mops available out there as attachments. The choice of one or other type of water tank will mostly depend on the availability of distilled water: if you can afford to use such kind of water, you can just get a steam mop with any type of water tank.
Otherwise, if you only have tap water, you should look for a steam mop with a water filter or alternatively buy a water filter for your steam mop.
Swiveling cleaning head
Swiveling cleaning head is a feature that you can meet in almost any steam mop out there. The thing is that the degree of swivel varies with different models. Some steam mops may be able to swivel their cleaning heads only up-down, while other models delivering 180-degree swiveling motion can swivel, obviously, in any direction.
You should generally go for models that have 180-degree swiveling cleaning heads. They offer much more maneuverability compared to up-down swiveling models.
Warmup Time
As we already mentioned, the warmup time depends on the water tank capacity. But thankfully, you don't have to calculate the warmup time yourself as manufacturers typically put the numbers in their product descriptions.
Warmup time isn't the most important feature of steam mops, but if you want to get a relatively quick steam mop, you obviously should avoid models that get ready in several minutes. A lot of steam mops are capable of getting ready in only 20-30 seconds, so you should have no issues with finding a quick steam mop.
Included accessories
And lastly, you should pay attention to the accessories that come with a steam mop. Typically, steam mops can come with the following accessories:
Triangular/rectangular cleaning heads.
Cleaning pads, to which the dirt sticks during cleaning. Pads can be washable or disposable. The more pads, the better since you won't need to wash them to continue cleaning. You could always buy spare pads if you need more.
Scent discs. Some steam mops can use these to attach fresh fragrance to the floor, which may somewhat help with getting rid of the odor.
Comment CheckCarpet glider, which is attached to the bottom of the cleaning head to allow for carpet cleaning.
Benefits of Getting a Steam Mop
Steam mops are beautiful instruments that have a number of great benefits over vacuums and the old & classical mop and bucket. With a steam mop, you can perform tasks that you wouldn't be able to do with a vacuum or a bucket & mop. Let's now see what the benefits of steam mops are!
Fresh, natural scent
Employing merely steam and no chemicals, steam mops do not attach any kind of cleaner's smell to your floors. Most of the time, cleanness is associated with ammonia and other chemicals. This isn't the case with steam mops! So if you just hate that smell of cleaning products, a steam mop would be an ideal choice for you!
Clean floor effectively
The boiling hot steam allows for effective cleaning of virtually any kind of floors. The heat of the steam loosens the dirt and stains on the floor, allowing for their quick removal. The heat is also what helps steam mops dealing with the toughest dried- and stuck-on messes.
Eliminate germs and bacteria
The heat of the steam not only helps in dealing with dirt but with harmful microorganisms as well. Thanks to the steam, steam mops are able to eliminate 99.9% of the bacteria and germs on your floors. Vacuums would need to be equipped with HEPA filters to reach comparable levels of performance!
No need to scrub the floors and hurt your knees
Even if you were to use the good old mop and bucket, you would need to sometimes get down on your knees and treat those tough dirt stains manually, hurting your knees and arms, and even your back. Because steam mops are so effective against almost all kinds of dirt, you won't even have the need to use a scrub for better floor cleaning!
No containers of dirty water
Remember how you would also need to rinse the mop cloth in order to not leave more stains on the floors? And how you would need to then dispose of the dirty water? That isn't the case with steam mops simply because the water in the water tanks doesn't get into contact with the dirty floors. Moreover, you simply do not need to get rid of the water at all because all of it turns into steam!
Frequently Asked Questions (FAQs)
Are steam mops suitable for cleaning carpets?

Answer: If you want to just perform some general cleaning of the carpet surface, a steam mop might satisfy you. Apart from that, a steam mop would be great if you want to eliminate germs and bacteria. However, in case if you don't care about bacteria and instead just want to rid your carpet of dirt, you should probably go for a canister or upright vacuum.

Where can I get additional cleaning pads and other accessories for my steam mop?

Answer: Check the website of the manufacturer of the steam mop. Alternatively, buy accessories from either online retailers or local stores.

Would a steam mop be a good choice to get rid of bacteria with?

Answer: Steam mops are indeed great for dealing with the bacteria on the floor. Have you found the ideal steam mop on our Best Steam Mop review? If so, you have greatly saved your time because otherwise, you would need to do more research to find more models or maybe more info if you need it. But if the best steam mop was there, why not go and get it?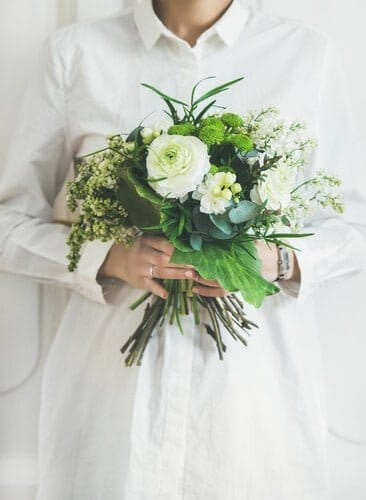 Hello there, and welcome to my vacuum cleaner blog! Here you will find the latest product reviews, the best home organization tips, clever cleaning hacks, and so much more. If you stick around, I think you will find the answers to the questions you've been looking for.
I have extensive industry knowledge of the most advanced vacuum cleaners out there and I can give you the most accurate and up-to-date information. I am committed to bringing you the best tips, the most in-depth reviews, and the most innovative home tips to get your house in tip-top shape in no time! Happy cleaning!