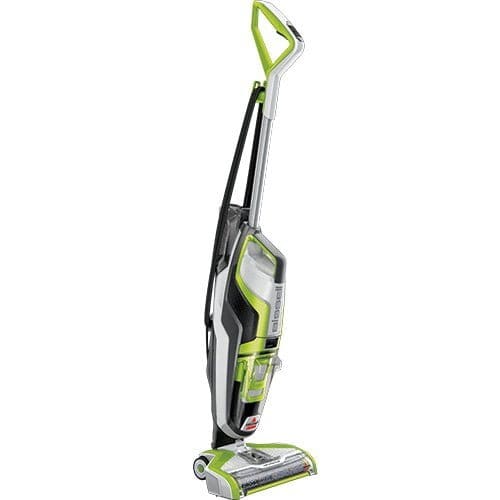 The market offers a range of all-in-one cleaners, including the famous CrossWave from Bissell. Is this the right choice for you? I wrote this Bissell CrossWave review to answer that question.
Investing in a new washer for your hardwood floor and a vacuum cleaner for your carpet can be costly. Good thing, all-in-one cleaners now exist in the market. This comprehensive product review will tell what you can expect from Bissell CrossWave floor cleaner.
Product Description and Overview
Bissell CrossWave all in one can take care of both your carpet and hardwood floor. It is a modern multi-space floor cleaner that can wash, vacuum, and dry your floor and carpet.
It has a robust suction that will remove dust and dirt on the whole surface. Once done, CrossWave will wash your carpet and floor using its brush roll.
Aside from hardwood floors, this all-in-one cleaner is also ideal for sealed wooden floors, vinyl, laminated floors, and tiles. It's slim, compact size guarantees easy storage and ease of use.
The machine's brush roll works with the multi-space formula to remove tough stains and sticky dirt for best results. The device uses its multi-surface cleaner to inject warm water deeply to cloth fibers, removing dirt and revitalizing your rug or carpet.
Features
CrossWave can make cleaning the rugs, carpets, and floors much easier compared to the ordinary vacuum cleaner. It is an all-in-one cleaning machine that lets you get both a vacuum and a cleaner in just one form.
CrossWave can offer more than what the ordinary vacuum can do. It has interesting features, such as:
1. Digital Controls
Bissell CrossWave has digital controls to make the cleaning process easier. Use them to change the current settings while the machine slides all over the floor.
This all-in-one cleaner can also help a lot if you have pets at home. It can pick up and wash away the paw prints and dropped food particles on the entire surface.
2. Time-Saving Functions
CrossWave comes with time-saving functions. There is no need for removing the brush roller to clean it. Here is what you should do:
3. Dual Brush Roll
This wet-dry vacuum cleaner has a set of innovative technologies like a brush roll made of nylon brush and innovative microfiber. Its highest rotation speed is 3,500 RPM, guaranteeing a fast and hassle-free cleaning routine.
4. Tank System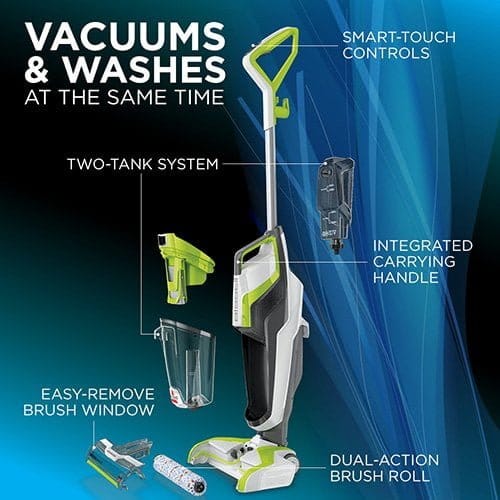 This all-in-one cleaner comes with a strong suction and a unique two-tank system designed for spotless cleaning. Aside from that, the machine has nifty touch controls that you will see on the handle.
CrossWave offers different cleaning modes. You can easily switch from one cleaning mode to another by just pressing the touch controls.
5. Filter
The machine also has a reusable HEPA-grade filter. Wash the filter and use it again.
6. Trays
CrossWave also comes with a nozzle tray and a brush roll tray attached to the machine.
These features make Bissell CrossWave a good all-in-one cleaner. It eliminates your need for extra devices, allowing you to save money and time.
The machine can be suitable for households and even for commercial spaces.
Design
Believe it or not, a vacuum cleaner is a piece of technology. Homeowners these days hang it on the wall as they proudly show the device to their guests. It obviously means the machine's design matters to these people.
CrossWave doesn't look beautiful and appealing, but the machine is useful and functional.
It is also lightweight, allowing you to carry this cleaner from one room to another. Likewise, the machine's main body is thin, so the whole thing doesn't take up a huge cupboard space.
CrossWave looks tall due to the big handle on its top, which allows you to hold the machine with ease. The handle attaches to a metallic pole connected to the other parts of your cleaner.
But the texture of the main stick between the handle and the machine's body can be flimsy. Surprisingly, it is unlikely to cause any problem when you use the cleaner. It is one of the ways the manufacturer has made this unit light and portable enough.
You will see a bin at the bottom part of the main pole. This bin will collect debris, dirt, and anything else on the floor.
This bin is detachable. Disconnecting it from the machine after every use to throw the accumulated waste is easy. Just press once the down button to pull the bin.
To dispose of dirt and debris properly, you should empty the bin outside the cleaned room. Detaching the bin from the cleaner while you're inside the room may cause the accumulated dirt to mess up on the cleaned surface.
Redoing the cleaning process can be too frustrating, especially for impatient homeowners. If you can't bring the cleaner outside, try to detach the bin from the machine with care. This may reduce or help prevent the remnants from dropping to the cleaned floor.
On the top part of the bin is where you can insert the free plastic container with cleaning fluid and warm water to use the machine as a washer.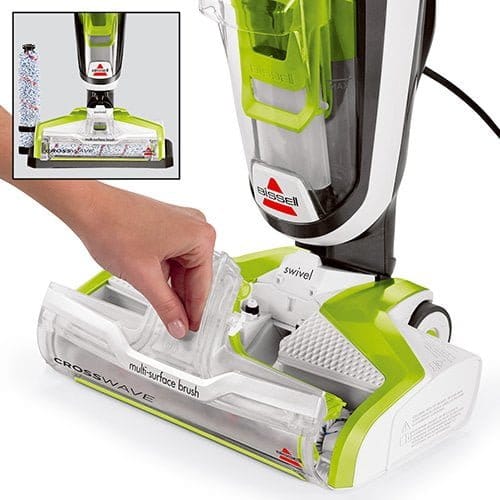 The multi-surface cleaner is at the bottom that looks like what other vacuums have. This will pick up all the mess on the floor.
The multi-space cleaner uses a small piece of disposable fabric and several bristles in cleaning the floor. After working, remove the lid from the cleaner's bottom to replace the used cloth and check the brush. You can either clean the multi-space cleaner or remove the accumulated dirt in the brush. This is a simple way to keep your cleaner in good condition.
Also, there is a swivel bit near the multi-space cleaner. It lets you put the machine's handle down alongside the cleaner to reach the spaces underneath the furniture. This swivel bit is useful but may not be as good as the ones you can see in other all-in-one cleaners in the market.
Bissell CrossWave looks simple and ordinary. Its design will not blow you away, but the machine is portable and easy to carry.
Cleaning Performance
CrossWave's suction is strong but not impressive. It works, but you need to move a few times to clean the whole surface. The possible root of this issue is that the machine cleans up only the areas where the key multi-surface brush can go.
The sides of your cleaner's bottom part are not as efficient as the center portion. Thus, your machine will struggle to reach and clean the corners. Fortunately, CrossWave works fast when cleaning a large area.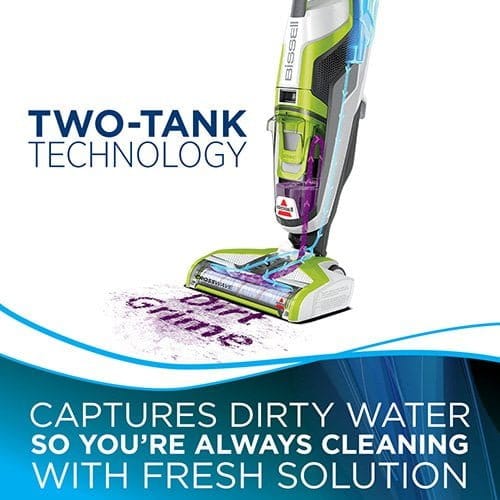 The best thing about this product is that you can do washing and vacuuming at the same time. Although, you cannot use any liquid other than the one included in the package. Once used up, you can buy a new bottle of that liquid directly from the manufacturer.
To use CrossWave, get the plastic bottle and fill it with warm water and a few drops of the cleaning liquid. The larger the surface you need to clean, the more drops you can add to the warm water.
Start working after filling the cleaner's tank. The machine will slowly release the mixed liquid and water to wet and cleanse the floor.
CrossWave can work in a floor or carpet mode. In any of these modes, the machine will release a certain amount of liquid to clean the entire surface.
You can repeat washing and vacuuming your carpet and hard floors to get them thoroughly cleaned. This can be a little annoying, but this technique works well.
When cleaning tougher areas, push the button in the cleaner's handle to let the machine release more fluid. This feature is often helpful in cleaning wooden floors.
CrossWave may not be the most efficient all-in-one cleaner. But this product might have the best infusion of a washer and a vacuum cleaner.
This cleaner is not a battery-powered machine. Instead, you should keep it plugged into an electric wall socket to clean and vacuum the area.
Reaching some parts of your house when using a portable multi-purpose cleaner can be difficult. But this will be much better than getting your cleaner running out of battery when you're almost through.
Pros and Cons of Bissell CrossWave
Is There Any Bissell CrossWave Vacuum Cleaner Alternative?
There are many all-in-one cleaners on the market. If you are searching for a Bissell CrossWave cleaner alternative, Hoover Floormate might be a good candidate.
Bissell CrossWave vs Hoover Floormate
Aside from CrossWave, Hoover Floormate is also a highly-recommended all-in-one hardwood floor cleaner. Comparing these two products is a great idea for two reasons:
They both have several advanced features that can suit your expectations.
They also received many positive reviews despite their minor differences.
Hoover Floormate has a longer electric cord than CrossWave, allowing you to move all over the room with ease. But Hoover Floormate is heavier than CrossWave.
CrossWave is better to use for carpeted hardwood floors than Hoover Floormate. Considering your priorities and these small differences between them may help you choose between Bissell and Hoover.
FAQ and Additional Tips
How much is Bissell CrossWave?

Answer: The price of Bissell CrossWave may vary from one store to another. It's best to do your homework and visit different sellers online to know the exact price range.

Where to buy Bissell CrossWave?

Answer: Bissell CrossWave is widely available online. Visit the well-known online shopping sites to know more about this.

How to use this item?

Answer: You need to plug it into an electric socket to use it.
How long do customers have to wait for their order?

Answer: The waiting period may vary from store to store. Often, online sellers take 3 to 5 business days to ship the ordered item. Verify it from the online store before you buy.

Does the product come with a guarantee?

Answer: Bissell offers this item with a 2-year limited warranty, covering the Bissell CrossWave parts and labor. This warranty may become invalid for some instances like if you use a different cleaning formula.

Will this item clean grout lines and cracks?

Answer: The brush roll is gentle on hard floors. It also has firm nylon bristles that can reach hard-to-clean regions like cracks and grout lines.

What makes it better than the ordinary mop?

Answer: CrossWave washes and vacuums the space altogether. Its advanced two-tank technology will keep dirty water separated from clean water, helping you avoid putting used water back to the cleaned floor.

What is in the package?

Answer: This product comes as a complete package. You will have the machine, storage tray, an 8 oz. bottle of cleaning formula, user's manual, and the warranty.

How long is the cleaner's cord?

Answer: The electric cord is roughly 25'.

Is it easy to assemble?

Answer: Yes. Check the user's manual for the instructions.
Final Verdict
The market offers a wide range of all-in-one cleaners as a cheaper and easier way to keep your floor and carpet clean. One of the popular models today is the Bissell CrossWave, which might be the right answer to your needs.
Bissell CrossWave is not perfect, but still, it can be an excellent option. Its cleaning performance is simply acceptable, not something impressive.
While it shows some imperfections, CrossWave remains capable and efficient. It can always provide a satisfying result.
After all, your choice should depend on your case and your needs. That is how you will truly get the best value for your money.
Hopefully, you have found my review helpful in making the best buying decision this time.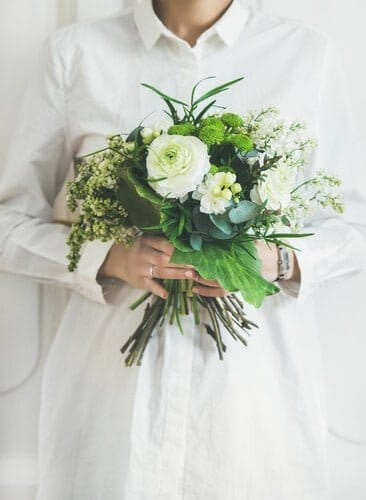 Hello there, and welcome to my vacuum cleaner blog! Here you will find the latest product reviews, the best home organization tips, clever cleaning hacks, and so much more. If you stick around, I think you will find the answers to the questions you've been looking for.
I have extensive industry knowledge of the most advanced vacuum cleaners out there and I can give you the most accurate and up-to-date information. I am committed to bringing you the best tips, the most in-depth reviews, and the most innovative home tips to get your house in tip-top shape in no time! Happy cleaning!