Similar to most people, I love my pet like he's a member of my family. I enjoy his companionship and crave his company, but I loathe the hair he leaves all over my house. Although it's not entirely his fault, I was still forced to banish him from the furniture until I could find the best cordless vacuum for pet hair.
Neglecting to clean up after your pets can have some rather terrible consequences to your health but it can also threaten your financial wellbeing. Between triggered allergies, dust accumulation, clogged heating and cooling ducts, unpleasant odors, and hair-covered fabrics, discovering and buying a good cordless handheld vacuum can make a huge difference in the quality of your life and comfort of your home.
In a Rush: My Top 3 Picks
If you don't feel like reading through this entire thing, don't worry; I understand. Finding the best product in any category can be a stressful undertaking, but when you're spending a couple hundred dollars on a machine, you want it to impress. So, I've taken the liberty of listing my top three favorite pet hair vacuums on the market because, quite frankly, it's confusing out there.
Feel free to click on the name of any product I've listed below to learn more about it.
Of course, there are more than just 3 pet hair vacuums that are worth mentioning. These, however, are a safe purchase for just about anyone because of three main reasons:
For a more in-depth analysis on each of the pet hair vacuum cleaners I mentioned above, read on below. Notice, as well, that I've added seven more options to the list for your consideration. Be sure to study the provided pros and cons carefully before making any decisions.
Best Cordless Vacuum for Pet Hair – Comparisons
The Top 10 Best Vacuums for Pet Hair
Below are the top 10 best pet hair vacuums on the market today. The three models mentioned above are listed again, but this time you'll find a much more comprehensive description of its details and features.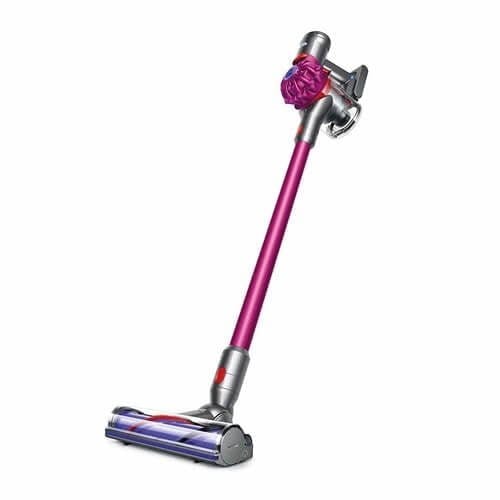 As one of those high-tech "sticks," the Dyson V7 Motorhead is a powerful and relatively lightweight machine that's super easy to maneuver. Cordless and convenient, this thing features a super long 30-minute run-time to help you clean large areas efficiently, plus it uses an integrated direct drive cleaner head for optimal dirt and hair removal.
Furthermore, the V7 Motorhead transforms into a handheld and features an instant-release trigger that immediately shuts off the power when the machine isn't in use. This machine works on all kinds of surfaces, features a unique swivel steering mechanism, has a one-touch bin emptying button and utilizes the brand's patented filtration system that traps tiny particles and dander better than most cordless vacuums for pet hair.
What I Liked
What I Didn't Like
---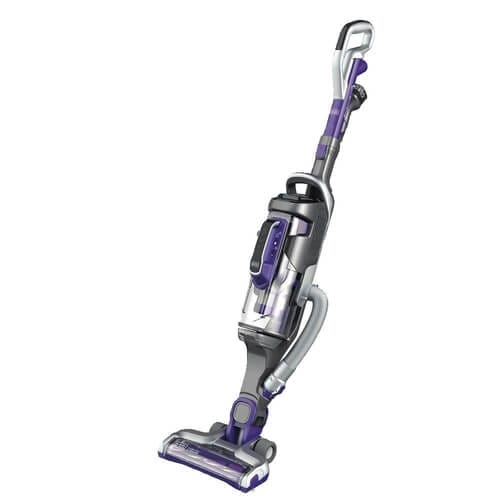 As a powerful pet stick, the Black + Decker PowerSeries Pro is both compact and lightweight, making it ideal for people who live in small quarters, over multiple stories or who have mobility problems. It features user-friendly things like a grab-and-go canister and triple automatic sensors:
Autosense – Automatically switches power functions when you move between surface areas.
Battersense – Shows your remaining battery power using LED lights.
Filtersense – Alerts you when it's time to clean or replace the filter.
This machine also uses an anti-tangle brush system and comes with a 3-in-1 accessory tool plus two specialized pet hair attachments. Cordless and rechargeable, the B+D PowerSeries Pro has a 60-minute run time with a full battery and can accommodate scent tablets for some quick aromatherapy.
What I Liked
What I Didn't Like
---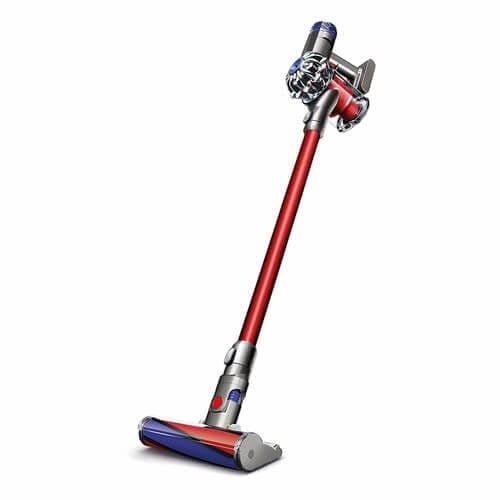 As the best cordless stick vacuum for pet hair, especially on hard surfaces, the Dyson V6 is fully rechargeable and offers up to 20 minutes of unmitigated suction power through its lightweight and extremely versatile body. I say that because the handle pops off to become a handheld vacuum cleaner and the bottom can be used as a long wand for hard-to-reach places.
It features a one-click bin opening button for easy dumping and it has a super soft cleaning head to remove dirt and dust while sucking up pet hair and dander (without doing damage to your property). Although it doesn't have any attachments, this vacuum stick is a conveniently designed 3-in-1 machine that's a smart buy for just about anyone.
What I Liked
What I Didn't Like
---
Bagless and cordless, the Shark Navigator Freestyle is a powerful, rechargeable stick vacuum that works wonders on carpets, hardwood floors, and tile. It has a 2-speed brush roll for super tough jobs and the canister is of extra-large capacity. Moreover, it weighs only 7 ½ pounds and features a swivel steering system for easy maneuvering.
What I Liked
What I Didn't Like
---
Claimed by the manufacturer to have the most powerful suction of any cordless vacuum, the Cyclone V10 Animal by Dyson features things like a torque drive cleaner head, a .2-gallon one-click bin emptying system and robust battery with a 60-minute run time. Lightweight and portable, this machine has its dust bin positioned at the top of the handle, making the front end more suitable for cleaning under low-to-the-ground furniture. The whole thing can transform into a handheld with the click of a button too.
What I Liked
What I Didn't Like
---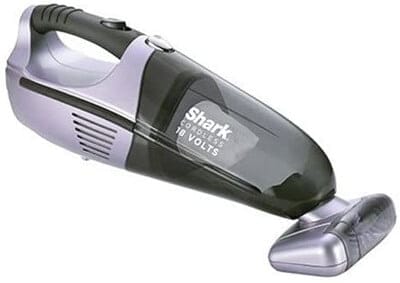 Cordless and bagless, this handheld canister vacuum is the perfect appliance for quick pick-ups and heavy-duty messes. It uses the Shark brand's patented Twister technology that sucks up dirt, debris and pet hair at lightning speed into the easy-empty cup, plus it offers a fully rechargeable battery that has a 45 to 60-minute run time and an LED charge indicator light. The charging stand gets mounted to the wall for storage convenience and the vacuum itself works perfectly on nearly any surface.
What I Liked
What I Didn't Like
---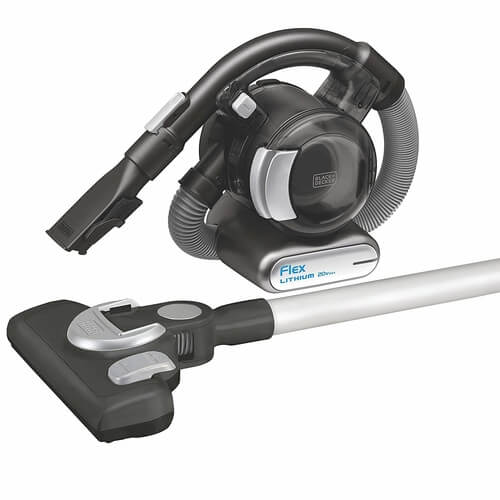 It's an upright, it's a handheld, it's a versatile pet hair vacuum with a commanding brush and 20 volts of cordless power. Ultra-compact and lightweight, the B+D MAX Lithium Flex features a stretchy 4-foot hose for cleaning high and tight spots. The stick vac floor head coverts for big jobs and the super cyclonic action spins dirt away from surfaces and into the fine-grain filter. The dust bin is removeable and washable, plus the lithium-ion battery is fully rechargeable.
What I Liked
What I Didn't Like
NOTE: There is an option to buy the vacuum with extra accessories but it costs more.
---

Although it's one of the last models on my list, the Hoover Linx is probably the best cordless stick vacuum for pet hair and here's why: It uses a state-of-the-art lithium-ion battery system that's powerful and fade-free. It also features an extreme recline handle for an easy grip during tough cleaning jobs, and it even has a fuel gauge (battery power indicator light). The edge cleaning bristles and patented WindTunnel technology make it ideal for multi-surface messes, and the manufacturer offers a 2-year limited warranty with every purchase.
What I Liked
What I Didn't Like
---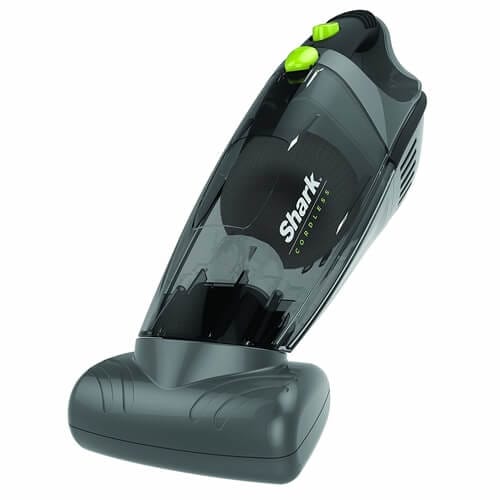 As the powerful predecessor of the Shark Pet-Perfect II, the original Pet-Perfect model is also a bagless, cordless and rechargeable handheld vacuum that easily picks up pet hair, dirt and various-sized debris from all surfaces. It uses Twister suction technology, runs off of a lithium-ion battery, and comes standard with numerous attachments like a detachable motorized pet hair brush and a super slim crevice tool. Lightweight and among the most portable units mentioned here, this classic is a modern-day household staple.
What I Liked
What I Didn't Like
---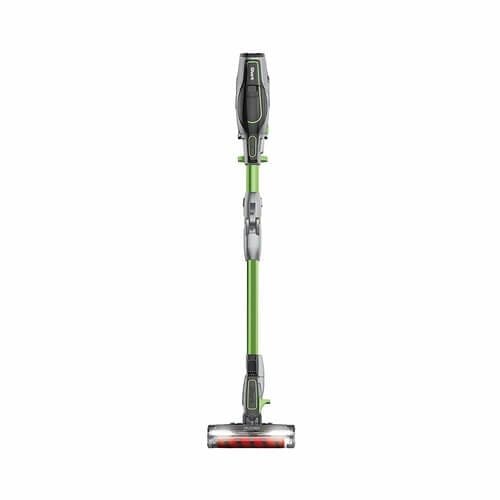 With things like MultiFLEX technology (which adds flexibility to your reach) and DuoClean technology (which forces the bristled brush deep to clean stubborn spots), the Shark DuoClean IONFlex is a prime contender. It offers floor-to-ceiling versatility and has a secondary battery for upgradable runtime. Included are several attachments, including an anti-allergen dust brush and wide-mouthed upholstery tool.
What I Liked
What I Didn't Like
---
Although there are literally hundreds of other models out there, the ten mentioned here are the best cordless vacuums for pet hair. It just so happens that they clean up other types of messes too. Find the right one and never buy another vacuum cleaner again.
My 7-Point Buying Guide to Find the Best Pet Hair Vacuum
Did you know that the vacuum cleaner is the most commonly used household appliance in American homes? And because every room in the average home is unique, some households utilize several vacuums. Ideally, however, there would be one vacuum that took care of it all, especially the mounds of pet hair on my couches and rugs.
Finding a suitable model can be difficult if you don't know what to look for. A high-quality vacuum should do more than simply pick up dirt and small pieces of debris from some of your floors. It should give you the power to clean every room quickly, easily and efficiently.
My search hasn't been easy. Along the way, I have tried dozens of cordless handheld vacuum cleaners and I've found one thing to be true every single time: the brand name and/or cost has very little to do with how well it performs. In fact, there are at least 7 things you consider before buying a cordless vacuum for pet hair.
1. UPRIGHT VS. CANISTER VS. STICK
1.1 Upright
Upright vacuums are ideal for people with mobility problems or who live in homes that have wide-open floor plans. Upright models are super easy to maneuver and move around in one single piece. Enabling you to cover a wide area in a short time, this type of vacuum typically features a slim front bumper that helps reach under furniture while protecting walls from scuffing.
On the contrary, upright vacuums can sometimes restrict your cleaning ability and limit the amount of dirt you can remove from surfaces. To clean adequately with an upright model, a large chamber is required and thus the device is typically heavy or difficult to move around. Alternatively, lighter models are usually easier to maneuver but might not be suitable for a heavy-duty pet hair job.
VERDICT: Upright vacuums are a good choice if you need to focus on large areas and work quickly.
1.2 Canister
Canister vacuum cleaners are the type that have a detachable suction head. Though convenient for many purposes, canister models aren't always as portable as upright models because you have to carry around two separate pieces as you clean. However, canister vacuum cleaners are excellent when it comes to reaching high and/or low places.
Moreover, canister vacuums provide concentrated suction for those difficult jobs. They're ideal for removing dirt, debris and matted-in pet hair from floors, furniture, clothing and curtains, plus they allow you to move from hard surfaces to soft surfaces without changing any settings.
VERDICT: Canister vacuums are a good choice for every room, but only if you live in a single-story house.
1.3 Stick
Stick vacuums are all the rage these days, mostly due to their extreme compactness and exceptional versatility. Small, lightweight and portable, cordless vacuums designed as a stick are more ideal than traditional models because they allow for easy use regardless of strength or mobility.
Furthermore, stick vacuums often have the same user-friendly features as larger vacuum cleaners despite using less electricity. Although stick vacuum owners must give up a little power for the convenience, it's not much. Plus, cordless stick cleaners can be used in almost any room of the house and typically come with plenty of attachments.
VERDICT: The best cordless vacuums are typically sticks, for obvious reasons; the drawbacks don't come anywhere near negating the benefits.
2. BAGGED VS. BAGLESS
Aside from upright or canister, the decision between bagged or bagless pet hair vacuums is a tough one. There are a few things you might want to consider before running your credit card through the machine:
2.1 Bagged
The good, old-fashioned bagged vacuum cleaners – still great for cleaning up messes without making more messes by emptying the bag. The downside: you have to buy replacement bags all the time and that can get expensive.
2.2 Bagless
Low-maintenance and low-cost, bagless vacuums have become a popular household staple that many homeowners actually prefer over bagged models. The downside: dust gets everywhere when you dump the canister if you're not extremely careful.
VERDICT: Bagged models are the best choice if you clean small messes and don't mind buying spare parts; bagless models are a better idea if you like saving money and don't mind a dust cloud when you're careless.
3. FILTRATION
Because vacuum cleaners are designed to remove dirt, dust, dander and other allergens from your home, the kind of filtration system it uses matters quite a bit. While most people with active allergies understand the importance of proper filtration, the same is also important in homes of people with no known allergies. So, whether you or someone in your family suffers from allergies or not, using a pet hair vacuum helps to properly filter the harmful particles from your air, creating a healthier space and a protective barrier against airborne illnesses.
In general, HEPA filters are the best option. HEPA vacuum filters are usually very fine, which means they catch a lot of the yucky stuff from the air as you clean and prevent you from having to dust as soon as you're done. Unfortunately, HEPAs aren't always available for every vacuum cleaner model. On the bright side, however, pet hair vacuums tend to use HEPA or other top-notch filtration systems by default.
TIP: No matter what kind of filtration system you use, be sure to clean it out often. Follow any special instructions listed by the manufacturer to keep your vacuum working optimally.
4. BATTERY
Since we're talking mainly about cordless vacuums for pet hair here, it's important to consider the type of battery in each model you're considering. The most common is the lithium ion, but other types of batteries are used as well. And although many might believe that lithium batteries are best, some of the newer kinds are quite impressive as well.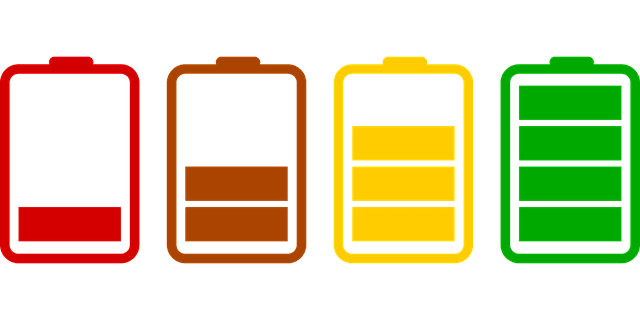 Either way, the vacuum you choose needs a battery that can withstand your cleaning demands. If the battery isn't strong enough, the features of your machine won't matter one bit. It's vital to find out the following information about each device's battery before buying anything:
The average run-time on all power settings
Whether it can be recharged or needs replaced
How long it takes to recharge
The cost of a replacement
Cordless vacuums for pet hair are popping up everywhere, but they're not all made the same. Ignoring the battery's details is a huge mistake that could have you spending money on a machine that's not worth its weight in dirt.
5. SUCTION POWER
Perhaps the most important thing to consider when searching for a cordless vacuum for pet hair is the suction power. After all, that's where all the magic happens. A machine with weak suction isn't going to accomplish anything except, of course, maybe pushing the hair and dirt deeper into your carpets and upholstery. Powerful suction lifts away debris to leave behind a fresh, clean, hair-free surface without numerous passes.
6. ATTACHMENTS AND ACCESSORIES
Regardless of whether you choose an upright or canister model, you'll still want a cleaning machine that can remove stubborn pet hair while also handling a variety of tough messes. Although the average vacuum cleaner is used primarily to clean floors, the rest of your home requires attention as well – stairs, sofas, countertops, vents, anything that regularly attracts dust or debris.
Fortunately, most modern-day vacuums have a handful of attachments and/or accessories that make rigorous cleaning less of a chore. In general, higher-end models typically come with a more comprehensive attachment package than economic models. However, the right product should be based solely on your intended uses and not on clever marketing ploys.
7. PRICE TAG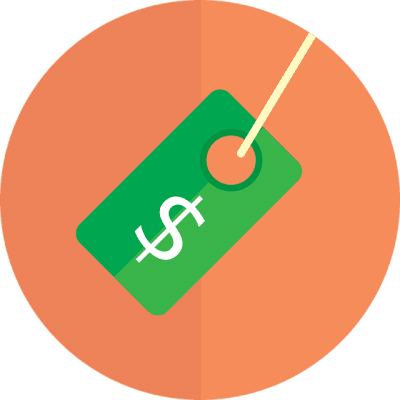 Regardless of what appliance you're buying, the price tag is important. For some purchases, the cost can determine whether you end up getting it or not. Well, handheld pet hair vacuums are not exception.
Although the quality of many things can be gauged on its price, that's not always how it works. Some less expensive vacuum cleaners are more powerful or durable than expensive ones. Don't assume a higher price tag will mean a better clean.
Instead, think about the kind of vacuum cleaner you realistically need and find the best one within your budget. For example, you wouldn't spend a bunch of money on a deluxe model if you only cleaned a couple hardwood floors. On the other hand, you wouldn't skimp on a vacuum if you had variant floor surfaces and hairy pets to clean up after.
My Final Verdict
There are far too many well-made vacuum cleaners and trusted manufacturers out there to know which model is right for you, at least not without first doing some research. When you've got hairy pets like me, buying the first machine you find on the shelves can end in disaster. Instead, use my buying guide to figure out which type of pet hair vacuum you need and then use my top 10 list to make an informed buying decision.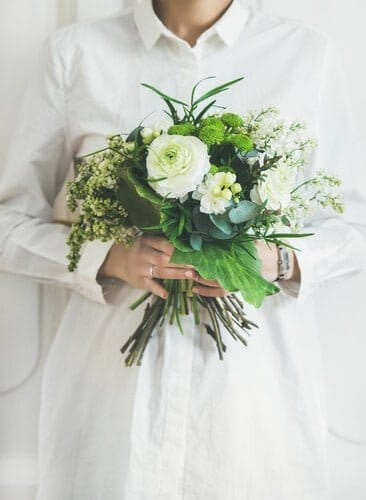 Hello there, and welcome to my vacuum cleaner blog! Here you will find the latest product reviews, the best home organization tips, clever cleaning hacks, and so much more. If you stick around, I think you will find the answers to the questions you've been looking for.
I have extensive industry knowledge of the most advanced vacuum cleaners out there and I can give you the most accurate and up-to-date information. I am committed to bringing you the best tips, the most in-depth reviews, and the most innovative home tips to get your house in tip-top shape in no time! Happy cleaning!